Vitamins and Supplements

Here at Muskoka Natural Food Market we are proud to offer quality and therapeutic grade supplements, herbs and vitamins. Please ask any of our knowledgeable and friendly staff for assistance you may need in finding the right natural health product for you. We also carry a large selection of clean essential oils, beauty and cosmetic products.
Our natural supplement section includes the following brands:



AOR



Assured Natural



Axel Kraft



Bell Distributors
BOIRON
CanPrev

Flora
Frontier Bulk Herbs
Garden of Life


Harrington Method



Health First Network



Homeocare
Innovite

Living Alchemy
Lorna Vanderhaeghe
MegaFood
NAKA
Natural Factors
Nature's Way
New Roots Herbal

NOW
Nu-Life Nutrition
Organika
Platinum Naturals
Prairie Naturals
Progressive

Purica
Renew life
Sisu
St. Francis Herb Farm
Veeva

STORE HOURS
Mon to Fri 10am-6pm​

Sat 10am - 5pm
Staying home Sun
DELI + BAKERY
​TAKE OUT
Mon to Sat 10am - 4pm​

Staying home Sun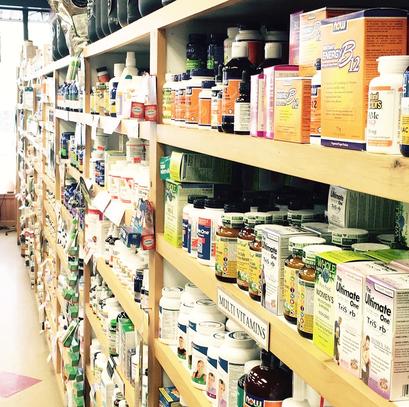 229 Manitoba St.

Bracebridge, Ontario

P1L 1S2

CANADA - 705. 645. 5471